article no: 23200
Double-Minitramp Ultimate
The high-end double-minitrampoline for national and international competitions
The Ultimate DMT is the successor of the Double-Minitramp 190. It is equipped with the powerful and innovative 6x6 mm high-performance jumping bed and fulfils the FIG norm. The Double-Minitramp Ultimate 6x6 guarantees more power and durability due to an optimized spring suspension.

TÜV-certified (EN 13219)

The trampoline is TÜV-certified according to EN 13219.

Made in Germany

Equipment is produced exclusively in our factory in Weilheim/Teck (Germany). We guarantee the use of only the highest quality raw materials in order to guarantee outstanding quality of all components as well as safety and reliability.
FIG approved

For competitions, the International Gymnastics Federation (Fédération Internationale de Gymnastique, FIG) has exact specifications of the construction type of the trampoline to be used at competitions. All trampolines and accessories used in competitions and supplied by Eurotramp have a valid FIG certificate.
details

The following is a list of all available product variants of Double-Minitramp Ultimate. For more information click on the corresponding entry. With the filters, the displayed variants can be specifically restricted.

Article-No: 23200

Double-Minitramp Ultimate

+ Jumping bed 6×6 mm + Roller Stand

stand/installation dimensions:

length

350 cm

width

190 cm

height

70 cm

stowed dimensions:

length

215 cm

width

70 cm

height

197 cm

transport dimensions:

1x Plastic film

length

215 cm

width

70 cm

height

197 cm

more information

| attribute | attribute value |
| --- | --- |
| frame type | open |
| number of springs | 102 |
| FIG certificate | yes |
| TÜV certificate | yes |
| gross weight | 198.00 kg |
| net weight | 152.00 kg |
Double-Minitramp Ultimate
Product details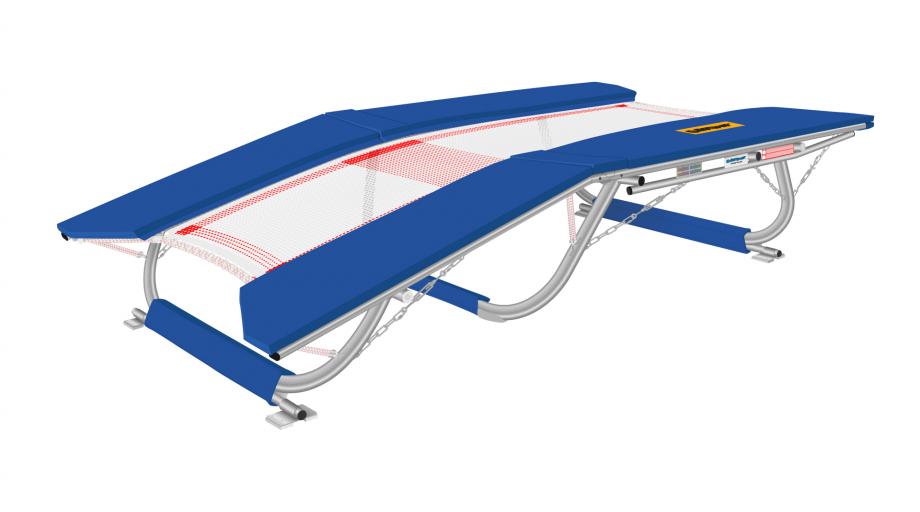 Frame

Flat-oval steel tube (350 × 190 × 70 cm) made of special steel; galvanized.

Frame pads

Shock absorbing and stable frame pads. Foam thickness: 32 mm.

Jumping bed

Jumping bed (292 × 92 cm) made of 6×6 mm wide weaved nylon bands.

Legs

Flat-oval steel tube made of special steel, strengthened by brace; galvanized.

Steel springs

98 steel springs + 4 strengthened corner springs; galvanized.