article no: 91000
Mats Trampoline
Foldable crash mat with integrated trampoline – for kindergartens & day care facilites
The trampoline is built into a big crash mat which prevents any accidental jumps or drops on to the hard ground. The characteristics of the jumping bed are perfectly secure adapted to a child's needs. The cover of the elastic cable which replaces the springs for security reasons is attached to the crash mat by high quality velcro and to the jumping bed by rubber cable. There's no possibility for a child to reach underneath the trampoline.

The crash mat was designed foldable for better stowage and easy transportation. If required the Mats Trampoline can also be used as a simple crash mat by simply removing the trampoline and replacing it by a small mat of the exact dimensions of the inner cavity. The Mats Trampoline is easy to handle for anyone and converted into a simple crash mat in only a few seconds.

Specifications trampoline (Art. No. 91100):
• Frame: 98 × 98 × 28 cm, 29 mm round tube
• Frame pads: blue, with circumferential Velcro strap for attachment to mat environment, foam thickness: 32 mm
• Jumping bed PVC orange: 70 × 70 cm
• Rubber cables: 11,4 mm × 130 mm (4× for suspension), 5,8 mm × 230 mm (1× for fixation of pads)



Made in Germany

Equipment is produced exclusively in our factory in Weilheim/Teck (Germany). We guarantee the use of only the highest quality raw materials in order to guarantee outstanding quality of all components as well as safety and reliability.
Product details
Mats Tramp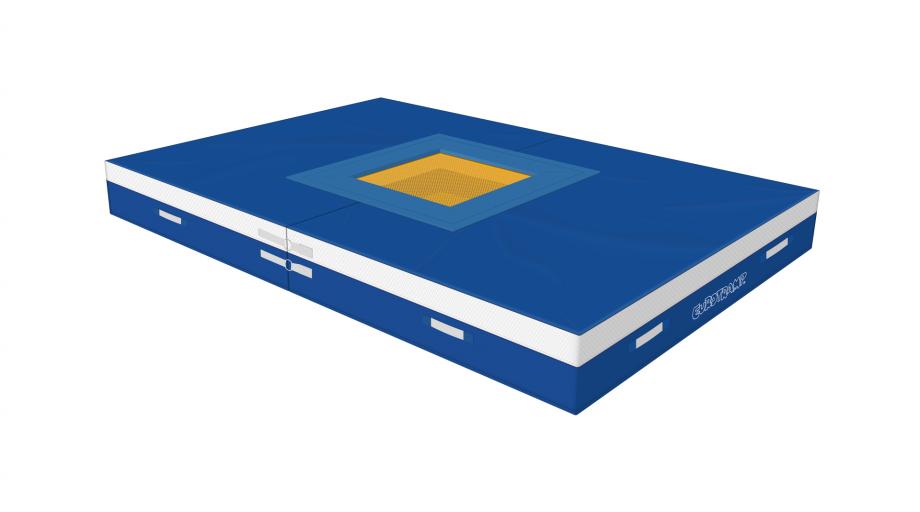 Foldable gym mat

Dimensions: 300 × 200 × 30 cm | high quality foam

Jumping bed

Made of PVC-coated synthetics.