article no: 94***-95***-96***
Ground Trampoline OUTDOOR
The outdoor ground trampoline with competition characteristics!
The trampoline meets the sports equipment standard (DIN EN 13 219) and thus may be only used under supervision!

The ground trampoline is positioned over a 1.15 m deep pit and is a very good alternative to trampolines that have to be set up. Falling or crawling beneath the trampoline is not possible because it is flush to the ground. The exceptionally good and soft jumping features of the bed enables controlled jumping and makes it a special experience for children and adults alike. Jumping bed made of PVC-coated synthetics. Foam thickness of frame pads: 32 mm

Three different frame sizes available:
• Adventure: 300 × 200 cm
• Master: 464 × 281 cm
• Grand Master: 524 × 311 cm

Various colour combinations of frame pads and jumping bed possible:
• Frame pad colours: blue, light green, dark green, black, grey
• Jumping bed colours (PVC): orange, white, black

TÜV-certified (EN 13219)

The trampoline is TÜV-certified according to EN 13219.

Cold-resistant

All components (jumping bed, steel springs, frame, bonded impact protection) of the trampoline are cold-resistant.

All-season use

The trampoline is designed and suitable for long-term outdoor use and can be left there all year.
Made in Germany

Equipment is produced exclusively in our factory in Weilheim/Teck (Germany). We guarantee the use of only the highest quality raw materials in order to guarantee outstanding quality of all components as well as safety and reliability.

Water-resistant

The trampoline is equipped with hot-dip galvanized springs and a weather proof jumping bed and thus can be left outdoor even in wet conditions.

UV-light resistant

All components (jumping bed, bonded impact protection, steel springs) are made of UV-light resistant material.
Product details
Ground Trampoline OUTDOOR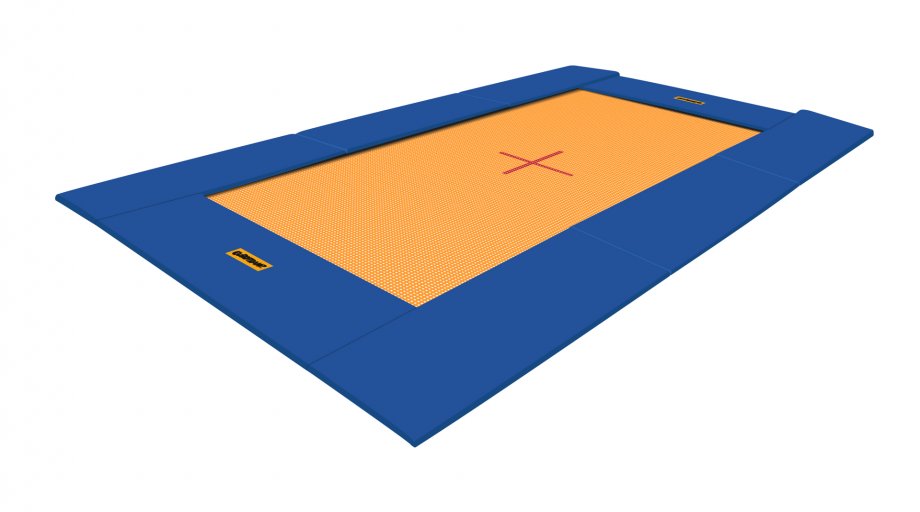 FRAME PADS

Foam thickness: 32 mm. Available colours: BLUE, LIGHT GREEN, DARK GREEN, BLACK, GREY

JUMPING BED

Jumping bed made of PVC-coated synthetics. Available colours: ORANGE, WHITE, BLACK