article no: 50000-60510
Minitramp 112 / 125
Minitrampoline esp. for school sports, therapy and rehabilitation centres
The Minitramp 112 / 125 has been manufactured by Eurotramp from the very beginning, since 1960. It is generally used as an angled take-off trampoline. There is a wide range of uses due to the many variations of the equipment. For example: the Minitramp is either available with high-performance steel springs or rubber cables. A jumping bed made of 13 mm nylon strands provides the necessary performance level for all athletes; a double-perlon jumping bed ensures a good feeling of safety – especially for school children. The Minitramp frame is available in two sizes: 112 × 112 cm or 125 × 125 cm. If required, it can also be supplied with two equally sized leg frames. Foam thickness of frame pads: 16 mm.

TÜV-certified (EN 13219)

The trampoline is TÜV-certified according to EN 13219.
Made in Germany

Equipment is produced exclusively in our factory in Weilheim/Teck (Germany). We guarantee the use of only the highest quality raw materials in order to guarantee outstanding quality of all components as well as safety and reliability.
Product details
Minitramp 112 - Jumping bed double perlon + steel springs/rubber cables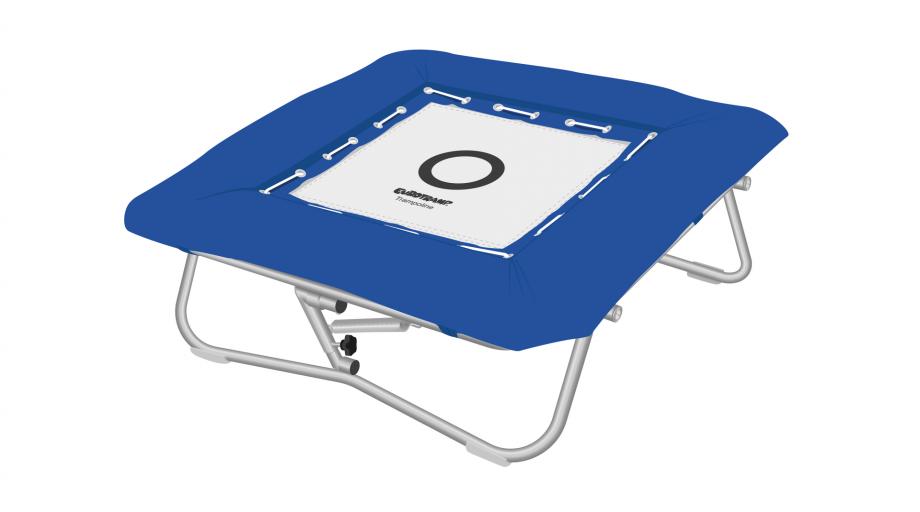 Frame

Round tube (112 × 112 cm) made of special steel; galvanized.

Frame pads

Shock absorbing and stable frame pads. Foam thickness: 16 mm.

Jumping bed

Jumping bed made of double perlon or 13 mm wide weaved nylon bands.

Legs

Round tube made of special steel, adjustable heights; galvanized.

Tension

Available with 28 steel springs (galvanized) or 4 rubber cables.
Product details
Minitramp 112 - Jumping bed double perlon + integrated frame pads + steel springs/rubber cables