article no: 27300-28201
Safety platforms and safety mats "Competition Universal*"
For Ultimate & Grand Master models
The safety platforms made of proven steel – especially produced for Eurotramp – are extremely stable and guarantee a high longevity. The safety mats with wedge consist of a highly qualitative PE-foam that attains optimum cushioning and therefore minimizes the risk of injury. The wedge can be removed within seconds so that the mats can also be utilised elsewhere.

In the event that two trampolines have to be placed closely next to each other, only one safety platform can be placed between the trampolines. In this case, one safety mat with double wedge will serve the purpose. However, one must take into account that both athletes will only have one common safety mat in the middle of the trampolines.

*Safety platforms "Competition Universal" replace earlier "Competition" safety platforms. Spare parts for "Competition" models are still available on request.




FIG approved

For competitions, the International Gymnastics Federation (Fédération Internationale de Gymnastique, FIG) has exact specifications of the construction type of the trampoline to be used at competitions. All trampolines and accessories used in competitions and supplied by Eurotramp have a valid FIG certificate.
Made in Germany

Equipment is produced exclusively in our factory in Weilheim/Teck (Germany). We guarantee the use of only the highest quality raw materials in order to guarantee outstanding quality of all components as well as safety and reliability.
details

The following is a list of all available product variants of Safety platforms and safety mats "Competition Universal*". For more information click on the corresponding entry. With the filters, the displayed variants can be specifically restricted.

Article-No: 27300

Safety platform "Competition Universal" (1 pair)

Ultimate & Grand Master models

stand/installation dimensions:

length

187 cm

width

262 cm

height

115 cm

more information

| attribute | attribute value |
| --- | --- |
| FIG certificate | yes |
| net weight | 90.00 kg |

Article-No: 27500

Safety platform "Competition Universal" (1 pair)

Master models

stand/installation dimensions:

length

187 cm

width

262 cm

height

99 cm

more information

| attribute | attribute value |
| --- | --- |
| net weight | 90.00 kg |

Article-No: 27800

Adaption bar for older safety platform "Competition" (1 pair)

For Ultimate models

stand/installation dimensions:

length

233 cm

width

0 cm

height

0 cm

more information

| attribute | attribute value |
| --- | --- |
| net weight | 23.28 kg |

Article-No: 28000

Safety mat "Competition" with wedges (1 pair)

For safety platforms "Competition Universal"

stand/installation dimensions:

length

300 cm

width

200 cm

height

20 cm

more information

| attribute | attribute value |
| --- | --- |
| FIG certificate | yes |
| net weight | 98.00 kg |

Article-No: 28201

Safety mat with double wedge (1 piece)

For safety platforms "Competition Universal"

stand/installation dimensions:

length

300 cm

width

200 cm

height

40 cm

more information

| attribute | attribute value |
| --- | --- |
| net weight | 49.00 kg |

Article-No: 28901

Wedge for safety mat "Competition" (1 piece)

stand/installation dimensions:

length

300 cm

width

40 cm

height

20 cm

more information

| attribute | attribute value |
| --- | --- |
| net weight | 6.50 kg |
related products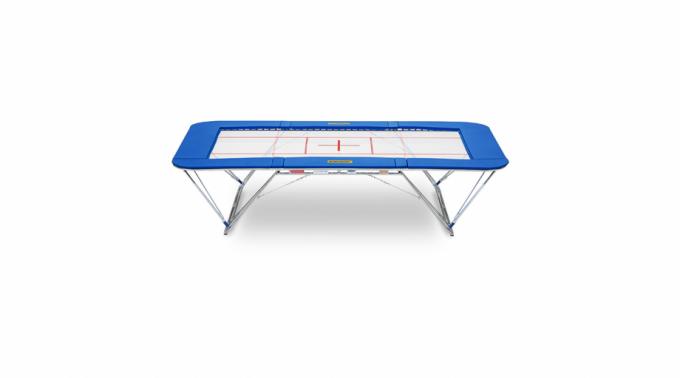 Ultimate
FIG certified competition trampoline for national & international competitions
to the product