new

article no: 40000-40001
Fivesquare 5²
Trampoline for freestyle training
Freestyle trampoline for bikers, snowboarders, freeskiers, wakeboarders, freerunners, skaters and many more! Enables the training of new tricks and styles under constant conditions. 16 m² large jumping area for all kinds of twists and flips. Powerful hand-woven jumping bed. Frame pads available in grey or black, foam thickness: 20 cm. For indoor and stationary use only!
Made in Germany

Equipment is produced exclusively in our factory in Weilheim/Teck (Germany). We guarantee the use of only the highest quality raw materials in order to guarantee outstanding quality of all components as well as safety and reliability.
Product details
Fivesquare 5²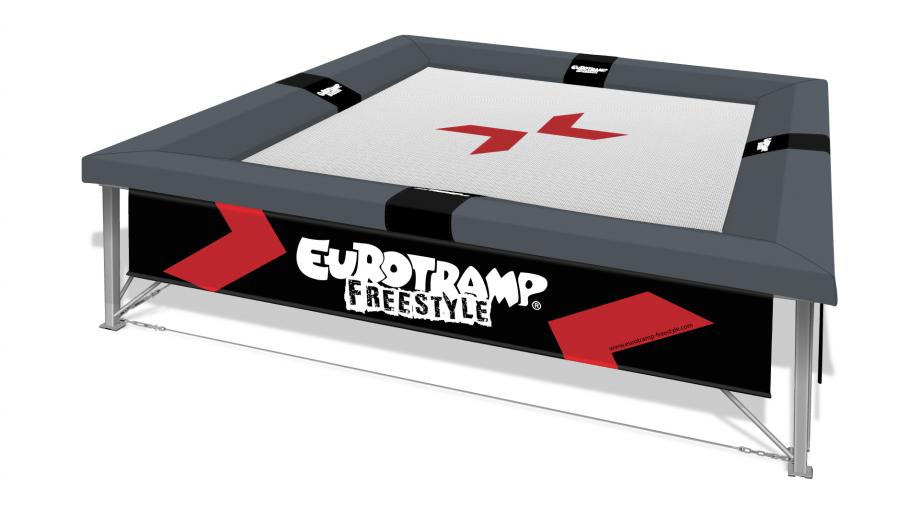 Customize it!

Side shades available in textile fabric or aludibond. Logo/branding possible.

Frame

Made of special steel. For INDOOR and stationary use only. Frame size: 556 × 556 × 150 cm

Frame pads

Foam thickness: 20 cm. Colour: GREY or BLACK

Jumping bed

Powerful hand-woven jumping bed made of polyester. Dimensions: 412 × 412 cm.

Steel springs

160 pieces. Length 250 mm, Ø 43,4 mm.