TRAMPOLINEPICS.COM
VISIT OUR TRAMPOLINE GALLERY
Latest pictures: World Cup Loulé, Portugal 2015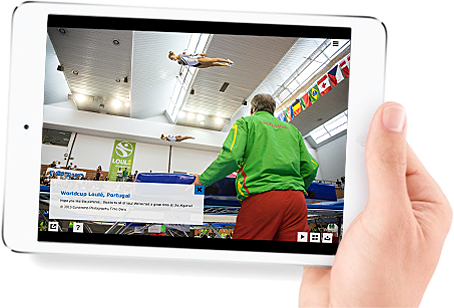 Witamy w Eurotramp
Eurotramp jest przedsiębiorstwem z 55-letnim doświadczeniem ,specjalizującym się w budowie trampolin i jesteśmy znani na całym świecie. Produkujemy wysokiej jakości produkty do sportu wyczynowego , amatorskiego oraz na świeżym powietrzu.
Dlaczego Eurotramp?
Referencje
Merchandise
Trampoline Competitions
World Championships Sofia (Bulgaria) - 2017
Dutch Trampoline Open Alkmaar (Netherlands) - 2018

Made in Germany
"Made in Germany" oznacza pierwszą klasę jakości, najwyższe rzemieślnicze wymagania i sprawiedliwe warunki pracy.

Niezawodny pod każdym względem.
Eurotramp wykożystuje wcałości do produkcij energię ze źródeł odnawialnych. Firma stawia tym samym nie tylko na jakość i serwis ale na długotrwały rozwój . Dalsze informacje na stronie www.naturstrom.de
Nowości
13.10.2017

The International Trade Fair for Amenity Areas, Sports and Pool Facilities FSB will take place from the 7th until the 10th of November 2017 in Cologne. And of course we are participating again this year.

Discover our brand new products in Hall 9.1, Stand C028 / D029. We cordially invite you to come visit us!

For further information please visit the official FSB website: www.fsb-cologne.com.


01.06.2017

1800 m² trampoline and freestyle area, more than 80 trampolines on six different areas including dodgeball, wall and freestyle trampolines, parkour and Ninja Warrior area & many more. Definitely worth a visit!

More info: www.fliplab.at


03.02.2017

From 2017 Horizontal Displacement measurements are being introduced for FIG trampoline competitions. With the new regulations, all jumping beds which are used in FIG competitions must be marked with two additional red lines.

How these additional lines can be added to the jumping bed, in order to comply with the new FIG norms, can be found in our detailed instructions.

The complete DIY set (Art. No. E26000) for applying the additional markings can be ordered directly from your local dealer. It consists of:
• appropriate diluted colour for direct application to the bed (a bottle is sufficient for two jumping beds)
• a metal stencil and
• a paint roller

New 4 x 4 mm, 5 x 4 mm und 6 x 4 mm jumping beds are shipped with the new additional markings since January 2017. If you have any questions, please contact the Eurotramp team at welcome@eurotramp.com or Tel. +49 7023-94950.