TRAMPOLINEPICS.COM
VISIT OUR TRAMPOLINE GALLERY
Latest pictures: World Cup Loulé, Portugal 2015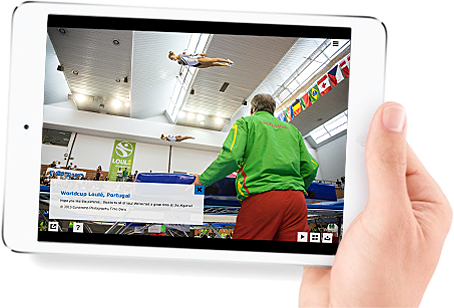 Bienvenido a Eurotramp
Eurotramp es una empresa líder a nivel mundial especializada en la construcción de trampolines con más de 55 años de experiencia. Nosotros producimos productos de alta calidad para las competiciones profesionales, así como para el tiempo libre y de los productos al aire libre. Nuestro alto estándar de calidad, así como la ambición de la innovación, la mejor relación posible al cliente y una excelente fiabilidad están reflejando en cada Trampolín de Eurotramp. No por nada los mejores atletas de todo el mundo confían en nuestros trampolínes y de nuestro servicio todos los días.
¿Por qué Eurotramp?
Referencias
Merchandise
Competiciones
World Championships Sofia (Bulgaria) - 2017
Dutch Trampoline Open Alkmaar (Netherlands) - 2018

Hecho en Alemania
" Fabricado en Alemania " significa trabajo artesanal de primera clase, la más alta aspiración y condiciones de trabajo justas. Cada producto Eurotramp solo se hace a mano en la ciudad de Trampolín, en nuestra fábrica de Baden Wurtemberg (Alemania).

Sostenibilidad en todos los aspectos
Eurotramp obtiene el total de electricidad para la producción y el desarrollo de fuentes de energía renovables y se basa en la sostenibilidad, no sólo en lo que se refiere de calidad y servicio. Para obtener más información, visite www.naturstrom.de
Novedades
13/10/2017

The International Trade Fair for Amenity Areas, Sports and Pool Facilities FSB will take place from the 7th until the 10th of November 2017 in Cologne. And of course we are participating again this year.

Discover our brand new products in Hall 9.1, Stand C028 / D029. We cordially invite you to come visit us!

For further information please visit the official FSB website: www.fsb-cologne.com.


01/06/2017

1800 m² trampoline and freestyle area, more than 80 trampolines on six different areas including dodgeball, wall and freestyle trampolines, parkour and Ninja Warrior area & many more. Definitely worth a visit!

More info: www.fliplab.at


03/02/2017

From 2017 Horizontal Displacement measurements are being introduced for FIG trampoline competitions. With the new regulations, all jumping beds which are used in FIG competitions must be marked with two additional red lines.

How these additional lines can be added to the jumping bed, in order to comply with the new FIG norms, can be found in our detailed instructions.

The complete DIY set (Art. No. E26000) for applying the additional markings can be ordered directly from your local dealer. It consists of:
• appropriate diluted colour for direct application to the bed (a bottle is sufficient for two jumping beds)
• a metal stencil and
• a paint roller

New 4 x 4 mm, 5 x 4 mm und 6 x 4 mm jumping beds are shipped with the new additional markings since January 2017. If you have any questions, please contact the Eurotramp team at welcome@eurotramp.com or Tel. +49 7023-94950.