TRAMPOLINEPICS.COM
VISIT OUR TRAMPOLINE GALLERY
Latest pictures: World Cup Loulé, Portugal 2015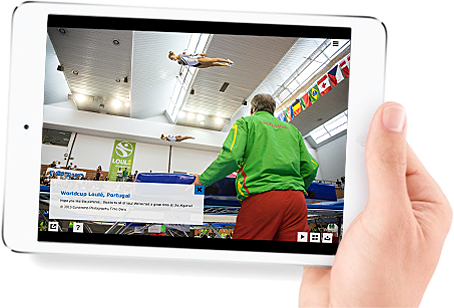 Welcome to Eurotramp
Eurotramp is a worldwide leading company specialized on building trampolines with more than 55 years of experience. We produce high quality products for professional competitions as well as leisure time and outdoor products. Our high quality standard as well as the ambition to innovation, best possible customer relationship and excellent reliability are mirroring in every single Eurotramp trampoline. Not for nothing top athletes all over the world do trust in our trampolines and our service every single day.
Why Eurotramp?
References
Merchandise
Trampoline Competitions
World Age Group Competition Odense (Denmark) - 2015
European Championships Valladolid (Spain) - 2016
Olympic Games Rio (Brazil) - 2016
World Cup Brescia (Italy) - 2016
World Cup Arosa (Switzerland) - 2016
Worlc Cup Baku (Azerbaijan) - 2016

Made in Germany
"Made in Germany" signifies first class handcrafting, highest aspiration and fair working conditions. Every single Eurotramp product is crafted in Trampoline City, our manufactory in Baden Wuerttemberg (Germany).

Sustainability in every regard
Eurotramp obtains the entire electricity for production and development from renewable energy sources and relies on sustainability not only in regard of quality and service. For more information please visit www.naturstrom.de
News
11-30-2015

The 31st Trampoline World Championship 2015 took place from November 26th to 29th in Odense, Denmark. It was the first qualification for the Olympics in Rio 2016. Switch to our trampoline gallery www.trampolinepics.com to see all impressions of this great competition!

And don't forget: on December 3rd it goes on with the next event, the 24th Trampoline Gymnastics World Age Group Competition 2015 in Odense. We are looking forward to it!


11-16-2015

A successful FSB 2015 in Cologne is behind us. At this moment, we would like to genuinely thank all our partners for many good conversations and numerous great new ideas. We are sure that, together with you, we will move great things in 2016.

In our picture gallery we collected some lovely impressions from the FSB for you. Some highlights can be found as a short video on our Vimeo account as well. Enjoy clicking around!


11-04-2015

The 6th Loulé World Cup took place from 29th to 31th October 2015 in Loulé, Portugal. It was the final World Cup of the four FIG sanctioned events in 2015. Switch to our trampoline gallery www.trampolinepics.com to see all impressions of this great competition!