TRAMPOLINEPICS.COM
VISIT OUR TRAMPOLINE GALLERY
Latest pictures: World Cup Loulé, Portugal 2015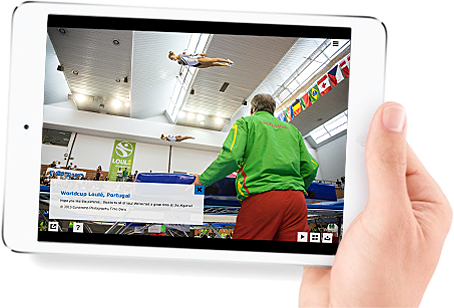 Welcome to Eurotramp
Eurotramp is a worldwide leading company specialized on building trampolines with more than 55 years of experience. We produce high quality products for professional competitions as well as leisure time and outdoor products. Our high quality standard as well as the ambition to innovation, best possible customer relationship and excellent reliability are mirroring in every single Eurotramp trampoline. Not for nothing top athletes all over the world do trust in our trampolines and our service every single day.
Why Eurotramp?
References
Merchandise
Trampoline Competitions
World Championships Sofia (Bulgaria) - 2017
World Cup Baku (Azerbaijan) - 2017
The World Games Wroclaw (Poland) - 2017

Made in Germany
"Made in Germany" signifies first class handcrafting, highest aspiration and fair working conditions. Every single Eurotramp product is crafted in Trampoline City, our manufactory in Baden Wuerttemberg (Germany).

Sustainability in every regard
Eurotramp obtains the entire electricity for production and development from renewable energy sources and relies on sustainability not only in regard of quality and service. For more information please visit www.naturstrom.de
News
12-07-2016

Enter now for your chance to win 1 of 2 signed copies of "Over & Above | Trampoline Gymnastics: Towards World Class Performance" by Jack Kelly!

How can I join this contest? Like this post on Facebook!

Winner will be picked at random. Contest ends on Friday 9th December 2016. Conditions of participation: https://goo.gl/LUyuCC

Good luck!


11-15-2016

Indoor trampoline park, freestyle zone and a unique trampoline area for kids – all these will be inaugurated from December on at FUNDORENA // Familotel Feldberger Hof (Black Forest, Germany). All trampolines are made by Eurotramp. Watch video!