TRAMPOLINEPICS.COM
VISIT OUR NEW TRAMPOLINE GALLERY
Latest pictures: Eurotramp Freestyle at the Snowboard World Championships 2015 - Kreischberg / Austria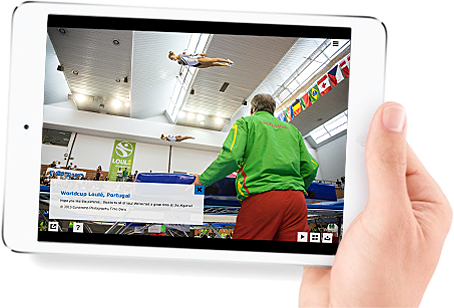 Booster Board
The springboard is growing up!
Explore the Booster Board
Welcome to Eurotramp
Eurotramp is a worldwide leading company specialized on building trampolines with more than 55 years of experience. We produce high quality products for professional competitions as well as leisure time and outdoor products. Our high quality standard as well as the ambition to innovation, best possible customer relationship and excellent reliability are mirroring in every single Eurotramp trampoline. Not for nothing top athletes all over the world do trust in our trampolines and our service every single day.
Why Eurotramp?
References
Eurotramp Fanshop
Trampoline Competitions
43rd Friendship Cup Jablonec (Czech Republic) - 2015
3. Ceský pohár Prague (Czech Republic) - 2015
World Championships Odense (Denmark) - 2015
World Cup Loulé (Portugal) - 2015
World Cup Valladolid (Spain) - 2015
World Gymnaestrada Helsinki (Finland) - 2015
World Cup St. Petersburg (Russia) - 2015
1st European Games Baku (Azerbaijan) - 2015
Scalabis Cup Santarem (Portugal) - 2015
World Age Group Competition Odense (Denmark) - 2015
European Championships Valladolid (Spain) - 2016
Olympic Games Rio (Brazil) - 2016

Made in Germany
"Made in Germany" signifies first class handcrafting, highest aspiration and fair working conditions. Every single Eurotramp product is crafted in Trampoline City, our manufactory in Baden Wuerttemberg (Germany).

Sustainability in every regard
Eurotramp obtains the entire electricity for production and development from renewable energy sources and relies on sustainability not only in regard of quality and service. For more information please visit www.naturstrom.de
News
01-07-2015

We are really proud to announce that Eurotramp is the equipment supplier for trampolines at the Rio 2016 Olympic Games! Additionally Eurotramp will also supply the trampolines and trampoline accessories for the dry area of Olympic diving.

Furthermore the contract with Rio OC includes the complete trampoline competition services executed by our service teams.

Cooperating in a consortium called "SEG" together with Spieth Gymnastics and Gymnova, we will provide highest level gymnastics equipment for the best gymnasts and divers world wide.

See the complete official announcement of FIG: www.fig-gymnastics.com/site/figNews/view?id=925

We are really excited and will keep you updated on our common "Road to Rio"!