TRAMPOLINEPICS.COM
VISIT OUR TRAMPOLINE GALLERY
Latest pictures: World Cup Loulé, Portugal 2015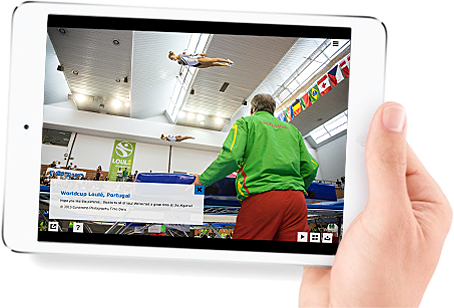 Welcome to Eurotramp
Eurotramp is a worldwide leading company specialized on building trampolines with more than 55 years of experience. We produce high quality products for professional competitions as well as leisure time and outdoor products. Our high quality standard as well as the ambition to innovation, best possible customer relationship and excellent reliability are mirroring in every single Eurotramp trampoline. Not for nothing top athletes all over the world do trust in our trampolines and our service every single day.
Why Eurotramp?
References
Merchandise
Trampoline Competitions
World Championships Sofia (Bulgaria) - 2017
World Cup Baku (Azerbaijan) - 2017
The World Games Wroclaw (Poland) - 2017

Made in Germany
"Made in Germany" signifies first class handcrafting, highest aspiration and fair working conditions. Every single Eurotramp product is crafted in Trampoline City, our manufactory in Baden Wuerttemberg (Germany).

Sustainability in every regard
Eurotramp obtains the entire electricity for production and development from renewable energy sources and relies on sustainability not only in regard of quality and service. For more information please visit www.naturstrom.de
News
03-24-2016

Eurotramp was honoured with the education certificate for continious and very high-quality apprenticeship by the German employment agency. Since 2007 the certificate is awarded to companies that are especially committed to the apprenticeship of young people. The award criterias include beside a high training rate also an above-average commitment and a high quality of training.

Apprentices at Eurotramp get the chance to work independently and to take responsibility for smaller tasks and projects from the very first day. Language courses and further education are actively promoted. In addition intercultural experiences can be collected at dealers offices and trampoline competitions at home and abroad. Eurotramps goal is to employ as many apprentices as possible on a permanent basis after their training and to promote professional training of its employees in future.