TRAMPOLINEPICS.COM
VISIT OUR TRAMPOLINE GALLERY
Latest pictures: World Cup Loulé, Portugal 2015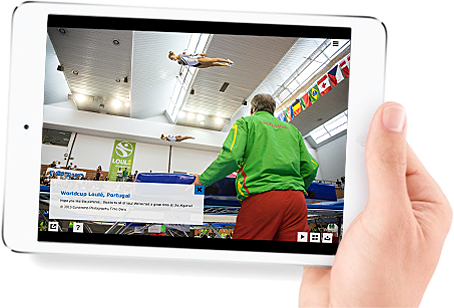 Bienvenue chez Eurotramp
Eurotramp est une entreprise leader internationale spécialisée dans la construction de trampolines avec plus de 55 années d'expérience. Nous produisons des produits de haute qualité pour les compétitions professionnelles ainsi que pour le loisirs et l´extérieur. Nos standards de haute qualité ainsi que l'ambition de l'innovation, tout comme une excellente relation avec nos clients, en plus de la fiabilité absolue sont visibles dans chacun de nos trampolines. Ce n´est pas pour rien que les meilleurs athlètes du monde entier font confiance à nos trampolines et notre service chaque jour.
Pourquoi Eurotramp?
Références
Merchandise
Competitions du trampoline
World Championships Sofia (Bulgaria) - 2017
World Cup Maebashi (Japan) - 2018
World Cup/50th Nissen Cup Arosa (Switzerland) - 2018
Dutch Trampoline Open Alkmaar (Netherlands) - 2018

Made in Germany
"Made in Germany" désigne la fabrication artisanale de première classe, la plus haute aspiration et des conditions de travail équitables. Tous nos produits sont exclusivement fabriqués dans notre Trampoline City située au Bade-Wurtemberg (Allemagne).

La durabilité à tous les égards
L´appuie sur la durabilité ne concerne non seulement la qualité et le service: L'ensemble de l´électricité nécessaire pour la production et le développement chez Eurotramp est obtenu de sources d'énergie renouvelable. Pour plus d'informations veuillez visiter www.naturstrom.de
Nouveautés
24/10/2017

SAVE THE DATE: 4 November 2017 | Trampbike World Championship 2017 @ RadQuartier Kirchenlamitz

Last year's highlights: goo.gl/hdZ5RT
More info: www.radquartier.com

13/10/2017

The International Trade Fair for Amenity Areas, Sports and Pool Facilities FSB will take place from the 7th until the 10th of November 2017 in Cologne. And of course we are participating again this year.

Discover our brand new products in Hall 9.1, Stand C028 / D029. We cordially invite you to come visit us!

For further information please visit the official FSB website: www.fsb-cologne.com.