Programme d'éducation trampoline
Eurotramp présente fièrement un programme d'éducation de Trampoline complet pour rendre le sport du trampoline encore plus attractif, ainsi que pour améliorer la sécurité dans le sport scolaire.
La Fédération Allemande de Gymnastique (Deutscher Turnerbund DTB) offre en coopération avec Eurotramp un programme de formation continue selon une nouvelle conception pour les entraîneurs et pédagogues qui enseignent les conditions techniques nécessaires pour un emploi sûr et attrayant de trampolines dans les écoles et d'autres établissements de formation et d'éducation. Les teneurs s'orientent aux décrets et programmes scolaires des différents ministères de l'éduction. Les chargés de cours expérimentés et ayant subi une formation spéciale enseignent en 16 unités d'entraînement de façon concrète, variée et orientée aux groupes cibles en théorie et en pratique les teneurs essentielles de l'emploi de trampolines. Dans l'ensemble, le pro-gramme de formation continue attache une importance particulière aux aides et mesures de sécurité dans tous les secteurs, tout en tenant compte de façon exemplaire aux consignes de sécurité des Länder et des associations de prévention des accidents ainsi que diverses institutions telles que le DTB et le groupe de travail Psychomotricité. L'offre ne se présente pas seulement sous forme de nouvelles brochures de formation mais aussi de DVD contenant un matériel d'apprentissage de 250 minutes env. qui réunit tous les thèmes et les présentent sous forme concrète. Le DVD est en vente sur notre site www.eurotramp-fanshop.com. En ce moment, le programme de formation est disponible en allemand, en anglais et en portugais, mais nous travaillons sur d'autres langues. Pour toutes les versions en langues étrangères vous êtes les bienvenues pour nous aider! Si vous êtes intéressés, veuillez nous envoyer un e-mail à: eurotramp@eurotramp.com!

Sur www.trampoline-education.com vous pouvez regarder les videos après l´enregistrement gratuit.

If you want to get further information or participate in our Trampoline Education program, please visit the Trampoline Education website.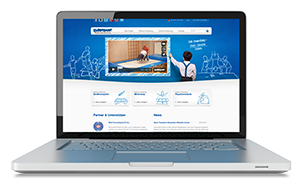 NOUVEAU: Cartes d´activité Minitramp
The 27 Minitramp activity cards provide the teaching staff a quick overview of the multifaceted introductive and continuative possibilities of the Minitramp usage in physical education. They can facilitate the preparatory planning of the lessons and can also be applied for the skills oriented group work during the lessons. (Movement and perceptual skills / practical skills / judgement skills).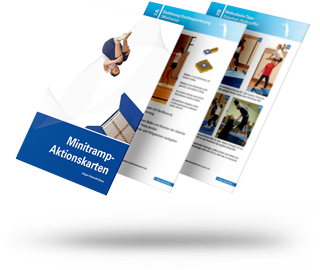 The short description of the movement activities supported by pictures (main phase of the movement) on the front page and the methodical tips on the back of the cards provide information for a secure, exciting, movement forming and educating basis program for schools and associations.
The minitramp activity cards can be downloaded as digital files for free or you can order the package printed on high quality paper for 15,-€ (incl. VAT and delivery to Germany) in our merchandise shop www.eurotramp-merchandise.com
Liens