Trampoline Education Program
Eurotramp proudly presents a complete Trampoline Education Program to make trampolining more attractive as well as to improve safety in school sports.
The Trampoline Education Program contains training videos about Trampoline, Minitrampolin/Parcours and Psychomotricity. It is an excellent supplementation for any practical training for beginners. Once you have registered for free you can watch the videos on www.trampoline-education.com or of course you can order the complete program as DVD (4 hour program) in our webshop www.eurotramp-merchandise.com. At the moment the Education Program is available in German, English and Portuguese but we are working on other languages. For any versions in foreign languages we look for your help! If you are interested, please write an e-mail to: eurotramp@eurotramp.com!
If you want to get further information or participate in our Trampoline Education program, please visit the Trampoline Education website.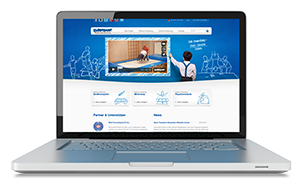 Minitramp activity cards
The 27 Minitramp activity cards provide the teaching staff a quick overview of the multifaceted introductive and continuative possibilities of the Minitramp usage in physical education. They can facilitate the preparatory planning of the lessons and can also be applied for the skills oriented group work during the lessons. (Movement and perceptual skills / practical skills / judgement skills).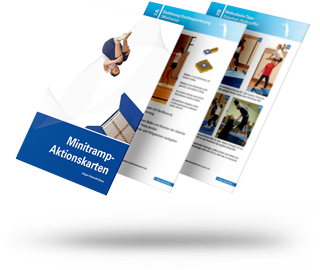 The short description of the movement activities supported by pictures (main phase of the movement) on the front page and the methodical tips on the back of the cards provide information for a secure, exciting, movement forming and educating basis program for schools and associations.
The minitramp activity cards can be downloaded as digital files for free or you can order the package printed on high quality paper for 15,-€ (incl. VAT and delivery to Germany) in our merchandise shop www.eurotramp-merchandise.com