TRAMPOLINEPICS.COM
VISIT OUR TRAMPOLINE GALLERY
Latest pictures: World Cup Loulé, Portugal 2015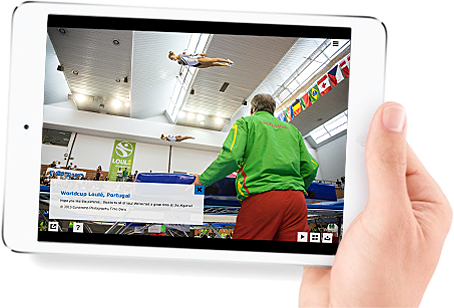 Vítejte na Eurotramp
Eurotramp je světová jednička specializující se na stavbu trampolín s více než 55 lety zkušeností. Vyrábíme vysoce kvalitní výrobky jak pro profesionální sportovní soutěže,tak pro volný čas a venkovní prostředí. Vysoké standardy kvality, snaha o inovace, zaměření na zákazníka a maximální spolehlivost se odráží v každé trampolíně od Eurotramp. Není náhodou, že nejlepší atleti po celém světě každý den vkládají důvěru do našich trampolín a našich služeb.
Proč Eurotramp?
Reference
Merchandise
Trampolínové soutěže
World Championships Sofia (Bulgaria) - 2017
Dutch Trampoline Open Alkmaar (Netherlands) - 2018

Vyrobeno v Německu
"Vyrobeno v Německu" znamená prvotřídní řemeslné zpracování, nejvyšší snaha o spravedlivé pracovní podmínky. Všechny výrobky Eurotramp jsou vyráběny výhradně v naší továrně v Bádensku-Württembersku.

Udržitelný rozvoj v každém ohledu
Celý Eurotramp získává elektrickou energii pro výrobu a vývoj z obnovitelných zdrojů a spoléhá na udržitelnost nejen s ohledem na kvalitu a servis. Pro více informací prosím navštivte www.naturstrom.de
Novinky
10-13-2017

The International Trade Fair for Amenity Areas, Sports and Pool Facilities FSB will take place from the 7th until the 10th of November 2017 in Cologne. And of course we are participating again this year.

Discover our brand new products in Hall 9.1, Stand C028 / D029. We cordially invite you to come visit us!

For further information please visit the official FSB website: www.fsb-cologne.com.


06-01-2017

1800 m² trampoline and freestyle area, more than 80 trampolines on six different areas including dodgeball, wall and freestyle trampolines, parkour and Ninja Warrior area & many more. Definitely worth a visit!

More info: www.fliplab.at


02-03-2017

From 2017 Horizontal Displacement measurements are being introduced for FIG trampoline competitions. With the new regulations, all jumping beds which are used in FIG competitions must be marked with two additional red lines.

How these additional lines can be added to the jumping bed, in order to comply with the new FIG norms, can be found in our detailed instructions.

The complete DIY set (Art. No. E26000) for applying the additional markings can be ordered directly from your local dealer. It consists of:
• appropriate diluted colour for direct application to the bed (a bottle is sufficient for two jumping beds)
• a metal stencil and
• a paint roller

New 4 x 4 mm, 5 x 4 mm und 6 x 4 mm jumping beds are shipped with the new additional markings since January 2017. If you have any questions, please contact the Eurotramp team at welcome@eurotramp.com or Tel. +49 7023-94950.