TRAMPOLINEPICS.COM
VISIT OUR TRAMPOLINE GALLERY
Latest pictures: World Cup Loulé, Portugal 2015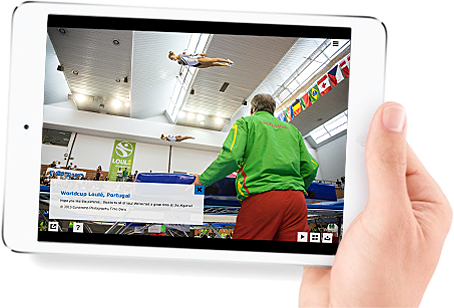 Bienvenue chez Eurotramp
Eurotramp est une entreprise leader internationale spécialisée dans la construction de trampolines avec plus de 55 années d'expérience. Nous produisons des produits de haute qualité pour les compétitions professionnelles ainsi que pour le loisirs et l´extérieur. Nos standards de haute qualité ainsi que l'ambition de l'innovation, tout comme une excellente relation avec nos clients, en plus de la fiabilité absolue sont visibles dans chacun de nos trampolines. Ce n´est pas pour rien que les meilleurs athlètes du monde entier font confiance à nos trampolines et notre service chaque jour.
Pourquoi Eurotramp?
Références
Merchandise
Competitions du trampoline
Scalabiscup Santarem (Portugal) - 2019
World Cup Khabarovsk (Russia) - 2019
47th International Competition of Friendship Jablonec (Czech Republic) - 2019
World Cup Valladolid (Spain) - 2019
World Cup Minsk (Belarus) - 2019
Olympic Games Tokyo (Japan) - 2020

Made in Germany
"Made in Germany" désigne la fabrication artisanale de première classe, la plus haute aspiration et des conditions de travail équitables. Tous nos produits sont exclusivement fabriqués dans notre Trampoline City située au Bade-Wurtemberg (Allemagne).

La durabilité à tous les égards
L´appuie sur la durabilité ne concerne non seulement la qualité et le service: L'ensemble de l´électricité nécessaire pour la production et le développement chez Eurotramp est obtenu de sources d'énergie renouvelable. Pour plus d'informations veuillez visiter www.naturstrom.de
Nouveautés
21/03/2019

We are happy to announce that Eurotramp receives the quality seal of the BSFH (Federal Association of Playground Equipment and Leisure Facility Manufacturers) for its playground trampolines! The BSFH quality seal is awarded every two years and is the industry award for assured quality, social responsibility and ecology, organisation and professional expertise.


29/01/2019

The International Gymnastics Federation has announced: "[...] the Organizing Committee of the 2020 Olympic Games in Tokyo has decided to equip their Games with the apparatus from our partners Senoh, Spieth and Eurotramp [...]". For more details see bit.ly/2RUP36M

11/12/2018

Der Kongress "Kinder bewegen" findet vom 21.–23. März 2019, in Karlsruhe, in den Gebäuden des Karlsruher Instituts für Technologie (KIT), statt. Eine Vielzahl an Vorträgen, Seminaren, Workshops und Diskussionsforen mit Referenten aus dem In- und Ausland garantieren in über 200 Einzelveranstaltungen anspruchsvolle Kongressinhalte. Der Kongress "Kinder bewegen" richtet sich an Erzieher, Übungsleiter, Lehrer, Wissenschaftler, Ärzte, Studierende, Physiotherapeuten und alle Interessierten.

Wir laden Sie herzlich ein, uns auf der Fachausstellung im Foyer des Veranstaltungshauptgebäudes Audimax auf dem Campus Süd des KIT zu besuchen. Nähere Informationen zum Kongress finden Sie online unter www.kongress-ka.de.