TRAMPOLINEPICS.COM
VISIT OUR TRAMPOLINE GALLERY
Latest pictures: World Cup Loulé, Portugal 2015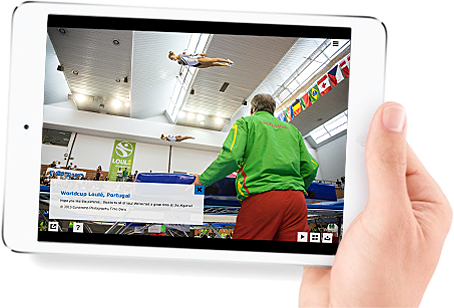 Bienvenido a Eurotramp
Eurotramp es una empresa líder a nivel mundial especializada en la construcción de trampolines con más de 55 años de experiencia. Nosotros producimos productos de alta calidad para las competiciones profesionales, así como para el tiempo libre y de los productos al aire libre. Nuestro alto estándar de calidad, así como la ambición de la innovación, la mejor relación posible al cliente y una excelente fiabilidad están reflejando en cada Trampolín de Eurotramp. No por nada los mejores atletas de todo el mundo confían en nuestros trampolínes y de nuestro servicio todos los días.
¿Por qué Eurotramp?
Referencias
Merchandise
Competiciones
Scalabiscup Santarem (Portugal) - 2019
World Cup Khabarovsk (Russia) - 2019
47th International Competition of Friendship Jablonec (Czech Republic) - 2019
World Cup Valladolid (Spain) - 2019
World Cup Minsk (Belarus) - 2019
Olympic Games Tokyo (Japan) - 2020

Hecho en Alemania
" Fabricado en Alemania " significa trabajo artesanal de primera clase, la más alta aspiración y condiciones de trabajo justas. Cada producto Eurotramp solo se hace a mano en la ciudad de Trampolín, en nuestra fábrica de Baden Wurtemberg (Alemania).

Sostenibilidad en todos los aspectos
Eurotramp obtiene el total de electricidad para la producción y el desarrollo de fuentes de energía renovables y se basa en la sostenibilidad, no sólo en lo que se refiere de calidad y servicio. Para obtener más información, visite www.naturstrom.de
Novedades
21/03/2019

We are happy to announce that Eurotramp receives the quality seal of the BSFH (Federal Association of Playground Equipment and Leisure Facility Manufacturers) for its playground trampolines! The BSFH quality seal is awarded every two years and is the industry award for assured quality, social responsibility and ecology, organisation and professional expertise.


29/01/2019

The International Gymnastics Federation has announced: "[...] the Organizing Committee of the 2020 Olympic Games in Tokyo has decided to equip their Games with the apparatus from our partners Senoh, Spieth and Eurotramp [...]". For more details see bit.ly/2RUP36M

11/12/2018

Der Kongress "Kinder bewegen" findet vom 21.–23. März 2019, in Karlsruhe, in den Gebäuden des Karlsruher Instituts für Technologie (KIT), statt. Eine Vielzahl an Vorträgen, Seminaren, Workshops und Diskussionsforen mit Referenten aus dem In- und Ausland garantieren in über 200 Einzelveranstaltungen anspruchsvolle Kongressinhalte. Der Kongress "Kinder bewegen" richtet sich an Erzieher, Übungsleiter, Lehrer, Wissenschaftler, Ärzte, Studierende, Physiotherapeuten und alle Interessierten.

Wir laden Sie herzlich ein, uns auf der Fachausstellung im Foyer des Veranstaltungshauptgebäudes Audimax auf dem Campus Süd des KIT zu besuchen. Nähere Informationen zum Kongress finden Sie online unter www.kongress-ka.de.