TRAMPOLINEPICS.COM
VISIT OUR TRAMPOLINE GALLERY
Latest pictures: World Cup Loulé, Portugal 2015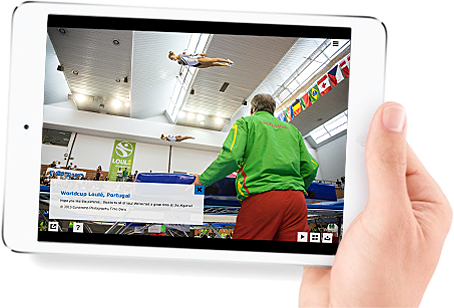 Welcome to Eurotramp
Eurotramp is a worldwide leading company specialized on building trampolines with more than 55 years of experience. We produce high quality products for professional competitions as well as leisure time and outdoor products. Our high quality standard as well as the ambition to innovation, best possible customer relationship and excellent reliability are mirroring in every single Eurotramp trampoline. Not for nothing top athletes all over the world do trust in our trampolines and our service every single day.
Why Eurotramp?
References
Merchandise
Trampoline Competitions
47th International Competition of Friendship Jablonec (Czech Republic) - 2019
World Cup Valladolid (Spain) - 2019
World Cup Baku (Azerbaijan) - 2019
World Cup Minsk (Belarus) - 2019
Scalabiscup Santarem (Portugal) - 2019
World Cup Khabarovsk (Russia) - 2019
Olympic Games Tokyo (Japan) - 2020

Made in Germany
"Made in Germany" signifies first class handcrafting, highest aspiration and fair working conditions. Every single Eurotramp product is crafted in Trampoline City, our manufactory in Baden Wuerttemberg (Germany).

Sustainability in every regard
Eurotramp obtains the entire electricity for production and development from renewable energy sources and relies on sustainability not only in regard of quality and service. For more information please visit www.naturstrom.de
News
01-29-2019

The International Gymnastics Federation has announced: "[...] the Organizing Committee of the 2020 Olympic Games in Tokyo has decided to equip their Games with the apparatus from our partners Senoh, Spieth and Eurotramp [...]". For more details see bit.ly/2RUP36M

12-11-2018

Der Kongress "Kinder bewegen" findet vom 21.–23. März 2019, in Karlsruhe, in den Gebäuden des Karlsruher Instituts für Technologie (KIT), statt. Eine Vielzahl an Vorträgen, Seminaren, Workshops und Diskussionsforen mit Referenten aus dem In- und Ausland garantieren in über 200 Einzelveranstaltungen anspruchsvolle Kongressinhalte. Der Kongress "Kinder bewegen" richtet sich an Erzieher, Übungsleiter, Lehrer, Wissenschaftler, Ärzte, Studierende, Physiotherapeuten und alle Interessierten.

Wir laden Sie herzlich ein, uns auf der Fachausstellung im Foyer des Veranstaltungshauptgebäudes Audimax auf dem Campus Süd des KIT zu besuchen. Nähere Informationen zum Kongress finden Sie online unter www.kongress-ka.de.